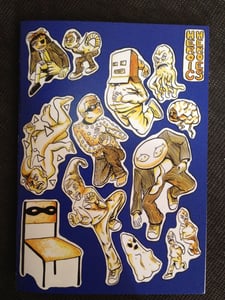 $

12.00 - On Sale
This sucker collects the eight issue saga from the Heroic Heroes mini comics series. The interiors are printed off my own inkjet printer onto beautiful newsprint and all 68 pages are collated and stapled from home.
Heroic Heroes Compendium is the tale of Bubblewrapboy, Cardboardman, Stocking Licker, Tandoori Man, Nonstopnewsman and Chairman. They are share house buddies who get into misadventure that is surreal and pathetic.
This is an indie, adventure, humour comic that will appeal to fans of Flaming Carrot and Too Much Coffee Man.
Toiletcitycomics is the creation of Will Kelly, a comic book enthusiast from Brisbane, Australia. Heroic Heroes has been running since 2003 and is up to it's 11th issue, other publications from Toiletcitycomics are Empty Postulation, The Man With An Ashtray on His Head and The Third Guy With The Pineapple.